Sometime's I become so preoccupied with exploring the world that I forget about all the beautiful English Countryside getaway locations right on my doorstep.
The English countryside is often, sadly, overlooked. Visitors from abroad flock to London, stay a few days before moving onto the rest of Europe. But they are missing the best bit!
Whilst England is famed for its pretty countryside with rolling hills, forests and rivers, the charming villages themselves are well worth a visit. There is so much history in England and old buildings, castles and churches galore to reflect this.
The English are notoriously a friendly bunch with a cracking dry sense of humour (if a little eccentric at times…)
Ok, full disclosure; I am English though living in Wales so I may be a tad biased when I tell you the English are the most friendly people worldwide. I'm sure there are some facts out there somewhere to back me up..?!
My favourite thing about an English countryside getaway is the multitude of cafes for afternoon tea, the beautiful walks and spending evenings in a cosy old pub, warming myself by a roaring fire and tucking into some hearty pub food.
So if I've convinced you to explore beyond London next time, here are 12 beautiful English Countryside getaways suggested by travel bloggers to inspire your trip to rural England!
But first a few of my own favourite places…
** Pssst, this article may contain affiliate links. If you have no idea what this means, click here and everything will be explained!**
English Countryside Getaway to The Lake District
I spent many a fond summer in the Lake District as a child. My Mum's family live in nearby Cumbria and it was the perfect springboard for outdoor adventures as we grew up.
Back then I spent many a summer swimming in the freezing cold lake and I have to admit, that doesn't hold QUITE as much appeal any more! But on a recent trip, I took to the lake on a kayak instead – a much more civilised way to enjoy the beautiful lakes!
There are quaint villages galore and plenty of places to stop for afternoon tea. If hiking is your thing then you are in luck as there are plenty of mountains for you to explore here in what I personally think might be the prettiest countryside England has to offer!
I would highly recommend staying at Rothay Garden Hotel in Grasmere. They have this beautiful conservatory complete with spa where you can sit in a jacuzzi watching the sheep stroll past. It's so incredibly relaxing. There's no swimming pool here but who needs a pool when you have a jacuzzi with a view like that?!
Grasmere itself is one of the cutest villages in the Lakes and is home to the smallest shop in the world which sells the most incredible ginger biscuits.
English Countryside Getaway to Monmouth
Well, you could argue that this is a Welsh countryside getaway as in truth, Monmouth borders both England and Wales. It's the town where I grew up and recently I heard it was Britains happiest town according to Capitol radio!
It's no wonder why really. Monmouth is one of those places where community spirit is really strong. There's always so much going on whether that be a free music festival or a country fair. The pubs are always bustling and lively and there are plenty of cafes for a cream tea or two.
Monmouth is also home to the only remaining fortified medieval bridge in the UK making it a popular place for history buffs to visit. Read more about Monmouth in my Monmouth Visitors Guide.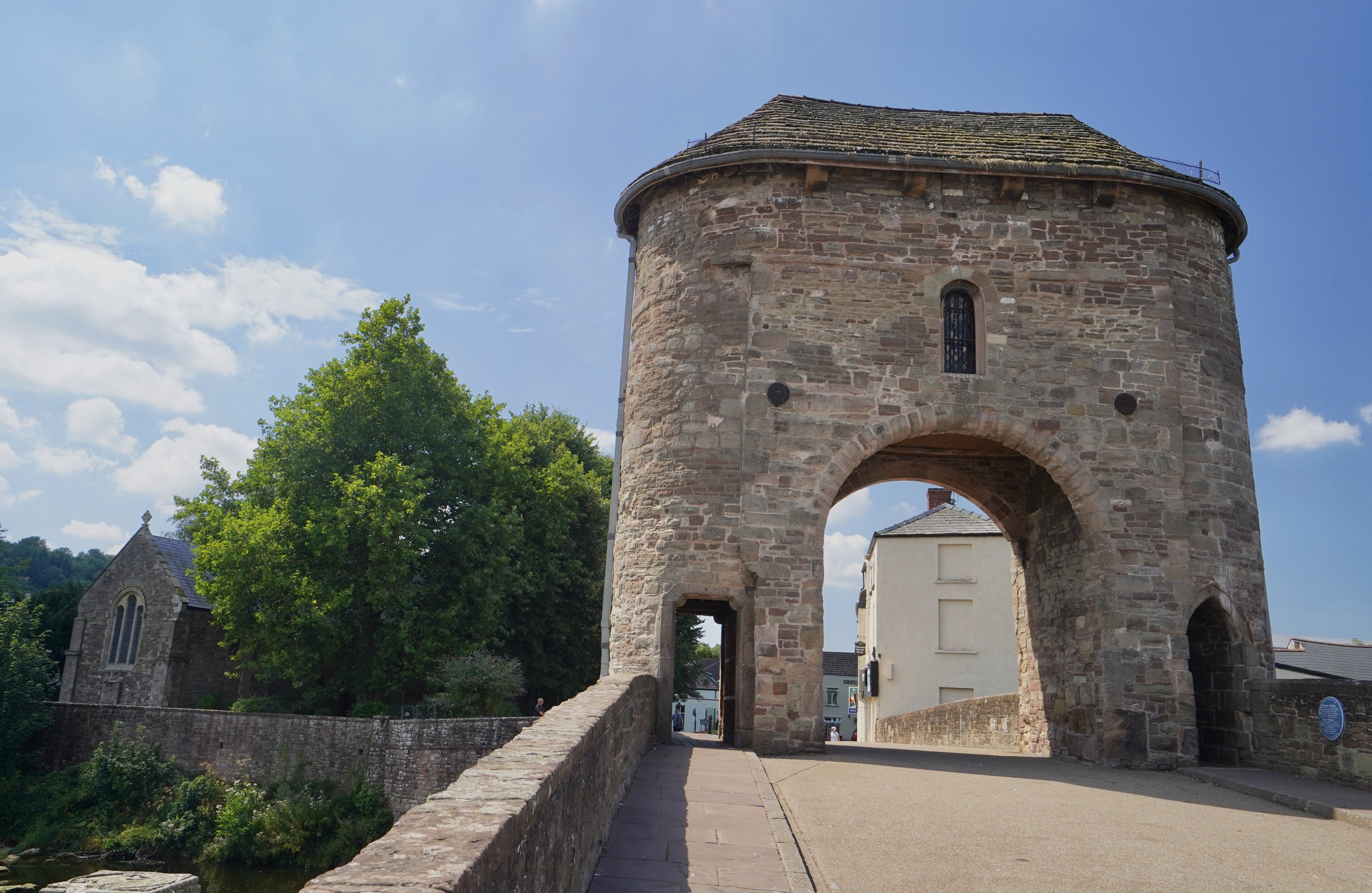 ---
READ MORE
---
Over to the other bloggers…
English Countryside Getaway to Exmoor
Exmoor is located on the border of Somerset and Devon and is one of the smaller National Parks in England.
It is a beautiful area to explore with deep wooded valleys, streams and high moorland.  It was used as the inspiration for the Lorna Doone book by RD Blackmoore and still has a romantic wilderness feel.
Exmoor reaches the coast with the seaside town of Minehead being on the boundary of the national park, perfect for a beach walk or supplies before heading away from the town.
One of our favourite places is Tarr Steps.  An ancient clapper bridge with beautiful walks and wild swimming in the river during the summer months.  Nearby is Liscombe Farm with gorgeous dairy ice cream from the cows that you see grazing near the river.
Exmoor is also known for its deer rut.  High on the moorland in the autumn months, the stags collect their hinds and congregate showing great displays of their strength, fighting other stags and generally being aggressive and loud.
Staying on Exmoor is really special as it has Dark Skies status and the stars really do shine on the moors at night.  We love the Dunkery Beacon Hotel, indulgence but worth every penny.
English Countryside Getaways in The New Forest
The New Forest is a favourite UK holiday destination with plenty of nature, museums, pubs and wonderful towns & villages. You can reach The New Forest in just 90 minutes by train from London.
From the town of Lyndhurst, you can do a circular hiking trail that takes you via the meadows through a denser area of the forest, then to the South and back via Clayhill to Lyndhurst. You'll see plenty of wild ponies along the way!
Lyndhurst is also the town where Alice Hargraves (Liddell) lived, a lady who became the inspiration for the main character from the famous book "Alice in Wonderland".
Other nearby places worth visiting are Lymington (where you can explore the marina, the wildlife conservation areas and the typical landscape of the salt planes), the Isle of Wight (a great place for wildlife spotting and other outdoor activities) and the Jurassic Coast (with dramatic cliffs and steep green hills).
To save money on your accommodation, we recommend checking out the local Airbnb options. We stayed in a small town called Bransgore, which proved to be a perfect base from to explore the different parts of this region.
English Countryside Getaway to Hambledon in Hampshire
By Kelly Mongan
With its stunning vineyard and charming village pub, there's no better place for a weekend away than Hambledon.
Located in Hampshire, this town is often referred to as "the cradle of cricket", since it is where the modern cricket rules were first played (head to the Bat & Ball pub if you're a cricket fan!).
Hambledon is located in South Downs National Park and therefore offers stunning countryside walks, through the vineyard and cabbage fields, or even up Butser Hill.
It's also a Dark Sky zone, meaning you'll be treated to the most wonderful view of the stars at night.
If you want to truly experience the English countryside, there is no better place to stay than Wriggly Tin Shepherds Huts. Wriggly Tin offers glamping in its finest form and is just a ten-minute walk from Hambledon Vineyard.
At the vineyard, it's possible to do a tour and taste their award-winning sparkling wine.
If you're looking to explore more of the area, Winchester is an easy day trip, as is Arundel Castle. Or, for walking/cycling trips, you have the whole of South Downs National Park at your disposal!
So which English countryside getaway is appealing to you most? Hopefully, you've got plenty of inspiration now to plan and English rural weekend trip or two!
Personally, I would love to spend more time in the Cotswolds!
Tell me about your favourite place for an English weekend away in the comments below!
And if you can share this article with your friends using the social share button sand pins below, I'll be eternally grateful!